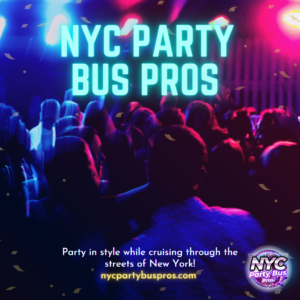 New York City is renowned for its vibrant nightlife, with a plethora of world-class clubs and bars that cater to every music taste and style preference. While a night out promises excitement, why not take your club experience to the next level by opting for a party bus rental in NYC? In this blog post, we'll explore how using a party bus can transform your night on the town, making it more convenient, memorable, and stylish.
**1. Convenience and Safety**

Navigating the bustling streets of NYC, especially on a night when everyone's out to have a good time, can be quite the challenge. Parking is often limited, and public transportation can be crowded or unreliable late at night. By renting a party bus, you eliminate these concerns. A professional driver will pick you up and drop you off at your desired club, ensuring a safe and convenient journey. Plus, you won't have to worry about parking or designating a sober driver.

**2. Arrival in Grand Fashion**

Arriving at a club in a party bus is an entrance that turns heads and sets the tone for the night. Party buses are designed to make a statement, featuring impressive lighting, sound systems, and even luxurious amenities like leather seating and a mini bar. Stepping out of a party bus with your friends exudes an air of exclusivity and elevates the anticipation for the night ahead.

**3. No Limits on Group Size**

Whether you're planning a small gathering with friends or a large-scale celebration, a party bus can accommodate your group comfortably. With various sizes and configurations available, you can choose a bus that suits your party's size and needs. Everyone can stay together, ensuring that no one gets lost in the crowds or left behind.

**4. Onboard Entertainment**

The party doesn't have to wait until you reach the club. Many party bus rentals in NYC are equipped with top-notch entertainment systems, including large screens, surround sound, and music options to set the mood. You can curate your playlist or even hire a DJ to keep the party going while you travel to your chosen club. The ride itself becomes part of the night's entertainment.

**5. VIP Treatment**

Many clubs offer VIP packages that include perks like priority entry and reserved seating. When you arrive in a party bus, you're more likely to be treated like VIPs. Clubs often appreciate groups that arrive together in style and may extend special privileges, making your club experience even more enjoyable.

**6. Stress-Free Transportation Home**

After a night of dancing and celebrating, the last thing you want is to worry about getting home safely. With a party bus, you have a designated driver ready to take you back to your destination. You can relax and unwind on the way back, knowing that you're in safe hands.

A night out at the clubs in NYC is always exciting, but adding a party bus rental to the equation takes your experience to new heights. The convenience, style, and entertainment value of a party bus make it the perfect choice for those looking to make the most of their night on the town. Whether you're celebrating a special occasion or simply want to enjoy a night of dancing and fun with friends, a party bus ensures that your journey is as memorable as the destination.

So, the next time you plan a night out in the city that never sleeps, consider booking a party bus rental in NYC. It's a decision that not only enhances your club experience but also adds an extra layer of safety, convenience, and style to your night on the NYC party scene.